Welcome to Our Official Website
Join Us each Sunday
@ 10 am for Worship
Our prayer is that you will be blessed and strengthened by the power of Jesus and that you will live a life of abundance in fellowship, joy, and liberty. New Cedar Grove Baptist Church is here for you.
It is not just a church; it is a fellowship of believers coming together to declare the glory of the Lord and to celebrate Jesus as King. We study the Word, practice what we learn, and in the process grow together.
May God richly bless you! May the Lord bless you and keep you! "Come to know the love of Jesus."
"Women Doning It All for the Glory of God"
Revival
August 11, 2023 @ 7:00 pm
"God's Daughters On the Battlefield"
Women's Unity Sunday
August 13, 2023 @ 10:00 am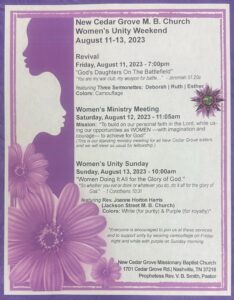 Rev. Joanne Horton Harris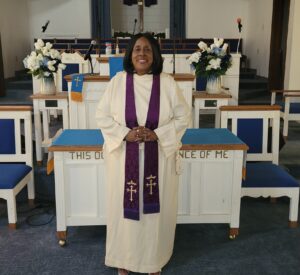 Community News
you can use
For community programs that may impact you, your family or neighbors,
Download our Church App
Download the official New Cedar Grove Baptist Church app to stay up-to-date with the latest events, and all the happening at NCGBC. We minister in the Metro Nashville area of Tennessee.
Note: For iOS devices (iPhones & iPads users) – download the Sharefaith App and search for New Cedar Grove Baptist Church.
Service Times
Sunday School on Saturdays @ 10:00 am
Sunday Worship Service on Sundays @ 10:00 am
Weekly Bible Study – Tuesday Evening @ 6:45 pm
Copyright ©2022 New Cedar Grove Baptist Church. All rights Reserved.