(The below program offerings are not programs provided by New Cedar Grove Baptist Church and the church is not responsible for administering the program or funds. Please contact the sponsoring agency for more information and/or to apply. Note: the programs may have a deadline.)
COVID is back August 2023
Helpful Information
Test kits at pharmacies no longer free you must buy them.
Test are done at walk-in clinics. Please call to make sure.
Important update to coverage for at-home COVID-19 tests
Starting May 12, 2023, the two national emergencies addressing COVID-19 end. On that date, at-home, over-the-counter (OTC) COVID-19 tests (with or without a prescription) will no longer be covered under most plans' coverage. Check with your plan for further details. Any test kits purchased on or before May 11, 2023, can still be submitted for reimbursement.
Does health insurance cover COVID-19 testing?
Health insurance does not cover COVID-19 tests
Health insurance is accepted for tests with provider visits at walk-in clinic locations. If you plan to use health insurance for your visit, you must bring your insurance card to your test. You may have out-of-pocket costs as determined by your health plan.
What is the cost of a COVID-19 test without insurance?
The fee for the test varies depending on where you go. Any additional cost due to lab delays or other unforeseen circumstances are the sole responsibility of the patient or guarantor.
Meet the Candidates for Mayor – July 25, 2023
July 14-29 – Early Voting
September 14 – Likely Runoff election
Rental and Housing Assistance – TNHousingSearch.org – July 25, 2023
TNHousingSearch.org provides detailed information about rental properties and helps people find housing to best fit
their needs. The service can be accessed at no cost online 24 hours a day or through a toll-free,
bilingual call center at 1-877-428-8844, available M-F, 8:00 am – 7:00 pm CDT. For Information, Click the link below.
NACA home buying program – June 13, 2023
Web site is www.naca.com
The NACA home buying program helps buyers who are typically challenged by traditional financing access affordable loans with favorable terms. The NACA Purchase Mortgage Program enables borrowers to purchase a home with no down payment and non–recurring closing costs. The NACA Program is designed to make home ownership more attainable for more people, especially people with limited funds and challenging credit profiles.
Some of the benefits of the NACA program include no minimum credit score, low interest rates, no PMI, and counseling along the way.
Spring into Technology – March 25, 2023
A Resource fair for Seniors and Caregivers
Free Food @ Mt. Zion – March 11, 2023
Every 3rd Saturday of the Month
Mt. Zion – 1112 Jefferson Street, Nashville TN 37208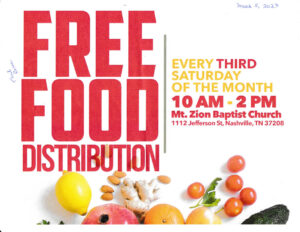 Rental and Utility Assistance Providers – January 23, 2022
In-Person Job Fair – August 17, 2021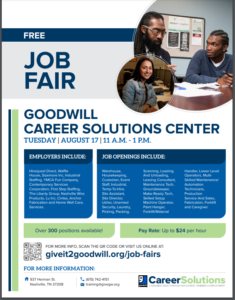 Get a Home Evaluation in Person
The Tennessee Renovation Loan Program can provide the funds you need!!! Click the link below for more information.
Assistance with Rent, Mortgage, and Water Payments.
This program is for Davidson County Applicants with an unexpected loss of income due to issues such as layoffs/furloughs, injury or a reduction in hours. Click the link below for more information.
Energy Payment Assistance (Natural Gas, Electricity, and other energy sources)
This program is for income eligible Davidson County residents with an active account (not in collections or a final bill) with an energy/utility provider, such as national gas or electricity. Click the link below for more information.
IRS – $300 Advance Child Tax Credit Payment in 2021
To find out how to claim your tax credit, click the link below.
Free Food Program for Eligible Seniors in Davidson County
The Commodity Supplemental Food Program (CSFP) is offering a FREE monthly box of nutritious food for eligible seniors. Click the link below for more information.
Metro Action Commission HiSET/GED (High School Equivalency and Adult Eduction Program).
Click the link below for more information.
The CARES Act funding to provide rapid re-housing to 400 individuals and families experiencing homelessness.
Click the link below for more information.